A keychain, or keyring, is a small chain, usually made from metal or plastic, that connects a small item to a keyring. The length of a keychain allows an item to be used more easily than if connected directly to a keyring. Some keychains allow one or both ends the ability to rotate, keeping the keychain from becoming twisted, while the item is being used.
A keychain can also be a connecting link between a keyring and the belt of an individual. It is usually employed by personnel whose job demands the frequent use of keys, such as a security guard, a prison officer, janitor, or retail store manager. The chain is often retractable, and therefore may be a nylon rope, instead of an actual metal chain. The chain ensures that the keys remain attached to the individual using them, makes the accidental loss less likely, and saves on wear and tear on the pockets of the user.
Keychains are one of the most common souvenirs and advertising items. Keychains are commonly used to promote businesses. A standard advertising keychain will carry the businesses name and contact information and often a logo.
In the 1950s and 1960s, with the improvement of plastic manufacturing techniques, promotional items including keychains became unique. Businesses could place their names on promotional keychains that were three-dimensional for less cost than the standard metal keychains.
Keychains are small and inexpensive enough to become promotional items for larger national companies that might give them out by the millions. For example, with the launch of a new movie or television show, those companies might partner with food companies to provide a character keychain in each box of cereal.
Keychains that currently hold keys are an item that is never long misplaced by the owner. People sometimes attach their keychain to their belt (or belt loop) to avoid loss or to allow quick access to it. Many keychains also offer functions that the owner wants easily accessible as well. These include an army knife, bottle opener, an electronic organizer, scissors, address book, family photos, nail clipper, pill case and even pepper spray. Modern cars often include a keychain that serves as a remote to lock/unlock the car or even start the engine. An electronic key finder is also a useful item found on many keys that will beep when summoned for quick finding when misplaced.
Regardless of what promotional metal keychains you are looking for,
Cheap Lapel Pin Factory has the one for you!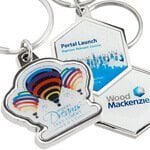 Custom Shape Picture Keyring
Custom Leather FOB Logo Keychain
Full Color  Printed Keychain
Material
Bronze, copper, iron, zinc alloy, pewter, stainless steel, glossy iron, stainless iron, aluminum
Process
Hard enamel (cloisonné), Imitation hard enamel (soft cloisonné), soft enamel, stamped or molded without coloring
Plating Process
Gold, Silver, Bronze, Nickel, Copper, Rhodium, Chrome, Black nickel, Dyeing black, Antique Gold, Antique Silver, Antique Copper, Satin Gold, Satin silver, dye colors, dual plating color
Size
Custom made. According to customer's requirements
Shape
Custom made. According to customer's requirements
Packing
Custom made. According to customer's requirements
How to make custom metal keychain?

Send the design logo by PDF or AI files
Provide the material, size, quantity, and colors
Email to info@cheaplapelpin.com, we will offer the MOQ and estimated price to you.
Submit Your Idea to Get
FREE Artwork
&
FREE Quote!